>> Wednesday, October 13, 2010
This is an oldie, but goodie. One of my favorites and one of the ones I've chosen to enter in the Local Photo Contest in a few weeks.
I took this photo when I first got started back in late April/early May. It's one of my absolute favorites. I have a color version, too. And just for the sake of showing it off, I shall now present it to you as my link up for Lovely Photo Wednesday with Aspire.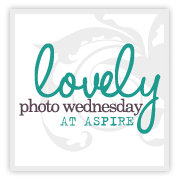 Hope you guys have a GREAT day!